Boost Responses With Addressable Geofencing
Increase responses and improve your ROI by combining tried and true postcard marketing strategies with Addressable Geofencing, allowing you to send digital ads to the people on your mailing list.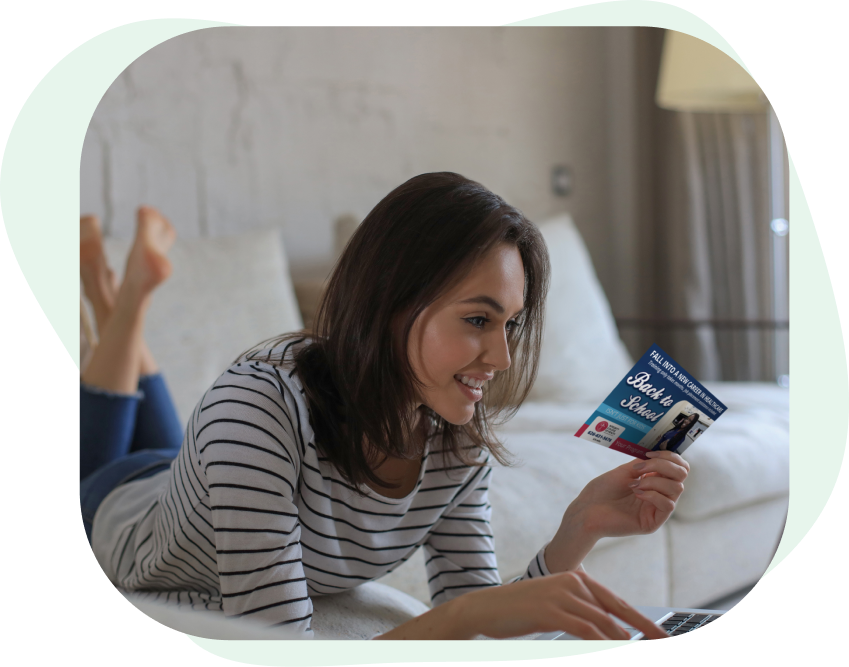 What is Addressable Geofencing?
Addressable Geofencing is a new digital marketing technology that merges physical and digital marketing initiatives. This method creates a virtual perimeter around each address on your mailing list and identifies the IP addresses of the online devices at the addresses.
Using this unique tactic, advertisers can serve targeted online display ads to the devices associated with the addresses they are sending their direct mail to.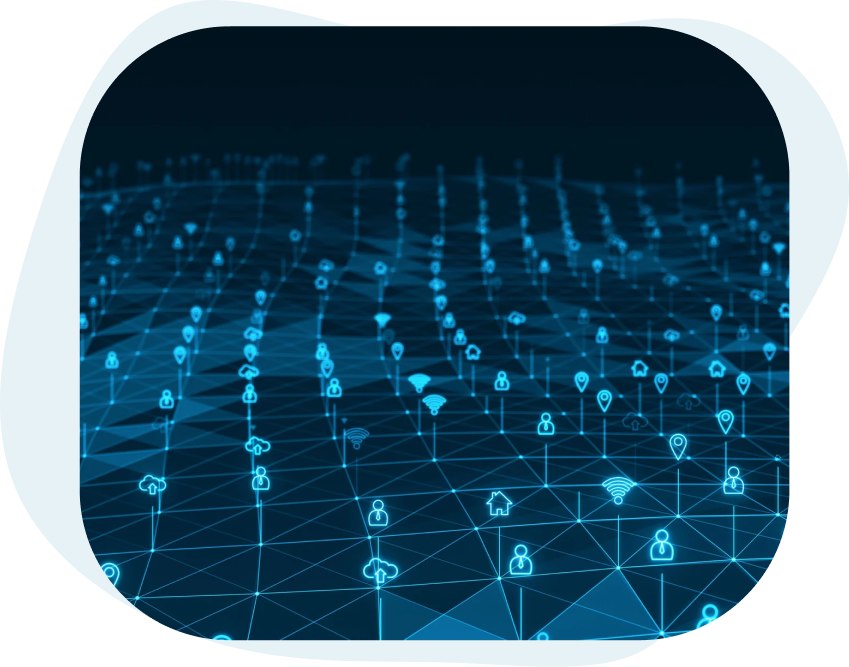 Improve Your ROI With Addressable Geofencing
In comparison to traditional geofencing techniques (targeting everyone in a geographical area), addressable geofencing is much more precise. The digital ads are shown only to online devices located at the addresses on your mailing list.
This eliminates wasted resources by serving ads to everyone in a geographical area. The result is a lower cost, which translates into a higher ROI for the marketing campaign.
By leveraging the strengths of both physical and digital marketing mediums, a more compelling, repetitive, and effective message is crafted and delivered.
The result is an increased likelihood of eliciting a positive response from the target audience, which also improves the overall ROI of the campaign.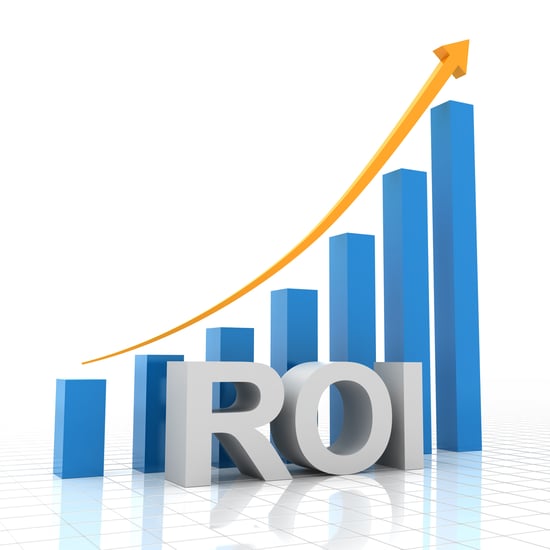 Postcard Marketing & Addressable Geofencing:
A Powerful Combination
Postcard marketing delivers tangible marketing messages directly to the hands of consumers. The tactile nature of postcards makes them more memorable and promotes a higher response rate than other direct mail formats.
However, in an age of rapidly decreasing attention spans, a single touchpoint might not be enough to drive action. By targeting specific households or businesses through their digital devices shortly after they receive a postcard, marketers can reiterate their message.
Addressable Geofencing creates a sense of familiarity and reinforces brand recall. It's akin to a gentle reminder, nudging the recipient to act on the postcard's message.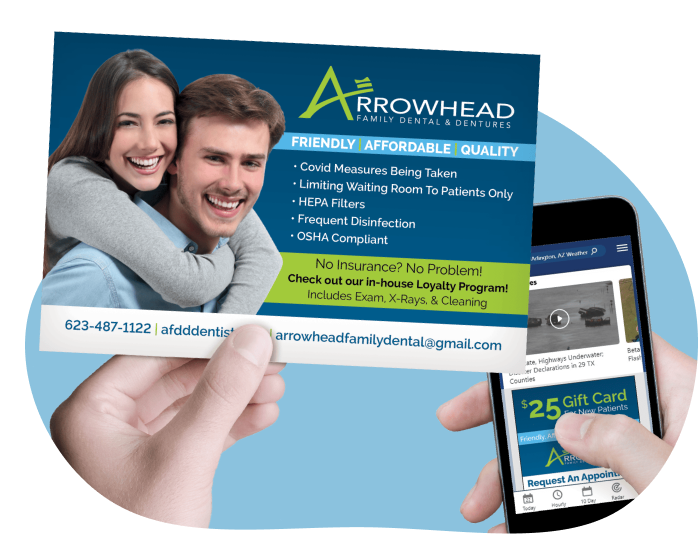 Addressable Geofencing FAQs
See our answers to frequently asked questions about Addressable Geofencing.
What is Addressable Geofencing?
Addressable Geofencing is a marketing strategy that combines direct mail postcards with online display ads to increase both response rates and branding for your business. The same people who receive your postcards will also see your clickable online ads, which will route them directly to your website.
Addressable Geofencing builds branding and name recognition within your target mailing area, increases web traffic, and, most importantly, increases the response rates of your mailers by up to 50 percent!
How much does Addressable Geofencing cost?
The cost of upgrading your postcard mailing to include an Addressable Geofencing campaign is very affordable, typically just a few cents per card. Many of our clients find that the increase in responses from the geofencing ads makes the small increase in cost well worth it.
How long do the Addressable Geofencing campaigns run?
We set the digital ads to run starting on your mail date (the day we mail your postcards). By starting the ads a few days before the postcards are delivered, the recipients will be "warmed up" to your brand. We run the ads for a total of 30 days so that your postcard recipients continue to see the display ads for a few weeks after receiving the postcard. This continued viewing of your ad reinforces your marketing message and your branding. It also acts as a series of nudges encouraging them to respond.
What happens when someone clicks on my digital ad?
When your ad is clicked, the viewer will be directed to a page on your website. This can be the homepage of your website or whichever page of your site that you choose. We recommend that you choose the page that most closely relates to the promotional message on your postcard and digital ads. Some of our clients opt to create a landing page specifically for their marketing campaign to maximize cohesiveness between the postcard, digital ads, and website experience.
Can I do just an Addressable Geofencing campaign without the postcards?
At this time, we only offer Addressable Geofencing campaigns as an add-on to our postcard marketing services. While online digital ads and postcard marketing produce great results on their own, our Addressable Geofencing campaigns focus on combining the two mediums to maximize the results of our postcard marketing services.
Does Addressable Geofencing work with any mailing list?
Absolutely! Our Addressable Geofencing campaigns will work with any type of mailing list: occupant, consumer, real property data, new movers, new homeowner, and specialty mailing lists. Even if you are providing your own list of addresses for your postcard campaign, you can enjoy the benefits of an Addressable Geofencing campaign.
Do I have to design my own ads?
Nope! Our Addressable Geofencing campaigns include designing the display ads for the campaign. The Cactus Mailing graphic design team will create the display ads to complement your postcard design and branding. The ads are designed in several sizes to optimize their visibility and impact, and can be shown in a variety of ad locations across numerous websites.
Are there privacy concerns with Addressable Geofencing?
Cactus Mailing's process for uploading address lists to our Addressable Geofencing Data Service Provider adheres to all data privacy policies and regulations. This process includes removing all personal information from the list before the geofencing process occurs.
What websites will my digital ads be seen on?
Our Addressable Geofencing Data Service Provider has access to thousands of websites and apps that your ads can be shown on. Including premium mainstream sites like Yahoo, ESPN, The Weather Channel, HGTV, PGA Tour, and many more.
How many times will recipients see my ad?
Our Addressable Geofencing campaigns are based on delivering an average of ten impressions to each address. So, a 5,000 piece postcard mailing would show a minimum of 50,000 digital ad impressions. Our experience has shown that ten impressions per card over a 30-day period provides enough reinforcement of the marketing message without oversaturating the recipients.
It is important to note that due to a number of variables, such as differences in the number of connected devices and time spent online, the number of impressions received by each address will vary.
Will Addressable Geofencing work for my industry?
We have run successful Addressable Geofencing campaigns for dozens of industries, including Dentists, Physicians, Veterinarians, Restaurants, Spas, Pool Services, Pest Control, Schools, Clubs, Camps, Lawn Care, Landscaping, Remodeling, Auto Services, Churches, Salons, Retail Stores, Real Estate, Insurance, Cleaning Services, and more!
Growing Your Business Doesn't Need to Be Hard! Speak with One of Our Experts